Period companies today are after more than just profit. Learn about brand efforts to reduce period poverty and stigma on a global scale through social entrepreneurship initiatives.
There has been a rising trend of social entrepreneurship from period companies over the last several years. Let's first explore what this is and consumer trends and demands in today's market. Then we'll delve into the global issue of period poverty and highlight some brand initiatives aiming to make the world a better place for menstruators everywhere. 
What is the goal of social entrepreneurship?
The idea of social entrepreneurship is that a company aims to serve a need and create value for society. When companies practice corporate social responsibility (CSR), also known as corporate citizenship, they are aiming to be conscious of the influence they have in economic, social and environmental aspects. In this sense, the goal of a company is not just to make a profit, but also to have a real positive impact on the world around them. 
What do today's consumers want? 
Consumers today value business ethics more than ever before. The millennial generation, or those born between 1981 and 1996, have much higher expectations when it comes to CSR than previous generations, pushing brands to do better and be better. 
Growing up in a time of rapid change, technological advancement, globalization and economic disruption as well as climate concerns has transformed the world as we know it. Thus, our priorities and expectations are at a stark contrast to those of prior generations. These experiences are shifting the ways products are bought and sold, forcing companies to take a closer look at the ways in which they conduct businesses.
Do the brands really want to make a positive impact? Or is it just an attempt to improve their image?
We want to see that the brands we support have a positive impact on our society and/or the environment. Several forces converge to cause this shift in consumer consciousness, such as the increased use of social media, big data, and a trend of greater transparency overall.
By 2030, it's estimated that millennial buying power will grow to over $4 trillion globally as we enter our "prime spending years", making a company's social efforts more important than ever if they want to compete in today's market. 
Why should companies be socially responsible? 
There are many benefits for an organization to be more socially responsible. Not only does it help give a competitive advantage, make a company appear more attractive to investors and improve the reputation, but research has also shown that it increases both customer and employee loyalty. 
According to a 2019 survey of 600 American consumers, 70% expect the brands they buy from to have a positive social and environmental impact and 46% pay close attention to the company's efforts with regards to social responsibility when making a purchase. The survey revealed that consumers are also wary, however, of corporate motivations behind social responsibility efforts. Do the brands really want to make a positive impact? Or is it just an attempt to improve their image? For these reasons, it's necessary to show, not just tell, the precise impact over time. Genuinely and authentically pursuing CSR builds a strong rapport among a brand's customers as well as the wider public, creating a better bond.
The trend towards making more environmentally or socially responsible purchasing choices has been accelerated by the pandemic, and experts predict it to continue in the years that follow. 
It's increasingly important for today's brands to visibly define their values, commit to sticking to them, and convey that commitment in a thoughtful and authentic manner. According to a worldwide 2016 study, only 29% of millennials feel loyal to brands, leaving room and opportunity for companies to attract new business. 
Period poverty: the chance to make a real impact for people in need
Period poverty, or not being able to afford period products, became quite a hot topic over the last few years. Period poverty is not just an issue in low-income countries, but everywhere, harming health and livelihoods of menstruators and deepening gender inequality on a global scale. And the problem has worsened since the pandemic. According to Plan International UK, one in ten British girls between the ages of 14-21 couldn't afford period products in 2017. Now, that number has tripled. 
There are many negative impacts of period poverty, like school absenteeism, health risks and shame. According to UNESCO, 1 in 10 girls in Africa miss school because of their periods due to lack of access to products as well as safe, private toilets to change them at school. A 2020 study commissioned by Thinx and PERIOD found that as many as 84% of U.S. teens had missed school due to not having access to period products or knew of someone who had.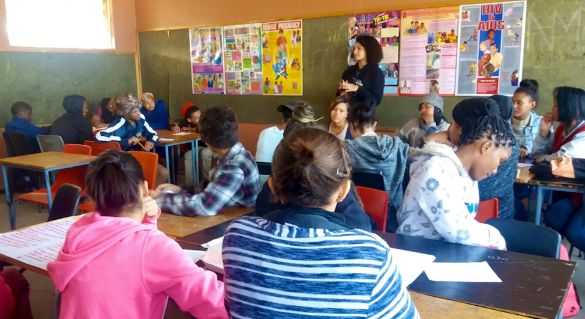 One of our writers, Sydney Piggott, during her work in South Africa back in 2017, here's her story.
Discussions about removing the "tampon tax" in countries around the world have helped raise consumer consciousness about the need to increase access to affordable menstrual products on a global scale. 
Following long discussions in Parliament, in December 2020 the UK finally scrapped the tampon tax. More recently, menstrual products have been made freely available in Scotland, for students in New Zealand, and in Lidl stores in Ireland! 
Social entrepreneurship of menstrual care companies
Period companies have also stepped up to the challenge to address the problem of period poverty. 
As far as the corporate giants go, Tampax and Always launched a period poverty campaign where they donate a single tampon or pad for every specially marked pack bought. It's been criticized, however, for not going far enough. 
In contrast, the newer period brands make a big point of their social and environmental initiatives, loudly and proudly proclaiming CSR as an integral part of their brand identity and fighting for greater gender equality. Organizations are selling menstrual products with the threefold goal of improving the overall experience of menstruators, changing the conversations we're having about periods, and upheaving the industry as a whole. 
As Maria Carmen Punzi and Mirjam Werner discuss in their insightful 2020 article, social entrepreneurship of period brands isn't just about making donations to those in need, but also supporting educational initiatives to teach young menstruators about their bodies and reduce stigma. Some companies also involve locals in the production process to empower them to make a livelihood. As the menstrual taboo has been found in all regions of the world, the new way of communicating about periods has an important influence by decreasing shame and normalizing the experience. 
Through their initiatives and empowering language about periods, the brands aim to create a sense of empathy and belonging for menstruators worldwide, creating a community and bringing people together. No matter where we come from, we all experience monthly menstruation and it's every menstruator's right to have access to clean and safe products to manage bleeding. 
Punzi and Werner interviewed 35 social entrepreneurs for their article, and the founder of CORA says: "[You're] giving women that perspective and helping them to have empathy for another woman who is going through this same experience but maybe having [. . .] much more negative consequences. [These women start seeing their period] as an opportunity to give back and to help another girl and actually perceive it as a force for good."
Some of the startups have also taken on the role of political activists. A prime example is The Female Company from Berlin. Through their award-winning book, The Tampon Book, they outsmarted the sexist German tax system by selling their tampons enclosed in a book, along with funny stories about menstruation from the biblical times to today. Prior to the repeal of the tampon tax in Germany in November 2019, menstrual products were taxed at the luxury price of 19%, while books were taxed at 7%. 

Photo: The Female Company Presse
There has been some criticism of these new social entrepreneurship models that the period startups have adapted. For instance, Jennifer Weiss-Wolf, American lawyer, tampon tax expert and author of Periods Gone Public, questions in her book if a for-profit business can pursue an activist message like the one in the period revolution in a genuine way. Other critics discuss the scalability of these projects and the real impact they're making given limited startup budgets. 
Some caution that it's important to be sensitive of the context when it comes to social impact initiatives in a culture that's different from your own, and find what works best in a particular environment. 
Socially responsible period brands: a few initiatives making the world a better place for menstruators
Many of the period brands today have social responsibility initiatives, but here are a couple we'd like to highlight: 
The Female Company

: through their Pads for Girls program, purchasing their organic period products help women in India access affordable menstrual care. Indian women who have been freed from prostitution and human trafficking are given a fairly paid job as a seamstress to create reusable cloth pads made from leftover fabric for women across the country who can't afford menstrual products.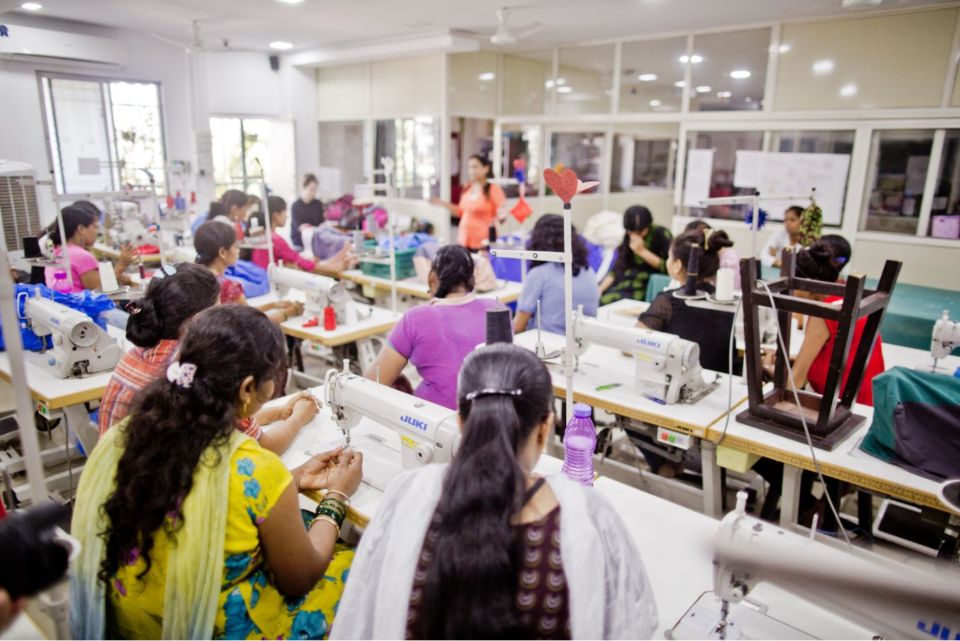 Photo: The Female Company Presse by @michaelcolella.de 
Kayla is one of our regular writers at Your Period Called, you can read a bit more about her in her bio or take a look at her articles on the history of period taboos, menstrual etiquette and how social media has reduced period stigma.
_____________
References:
Abu-Saifan, S. (2012). Social Entrepreneurship: Definition and Boundaries. Technology Entrepreneurship. https://www.timreview.ca/article/523. Accessed March 5, 2021. 
Accenture. (2020). COVID-19: New habits are here to stay for retail consumers. Retrieved from https://www.accenture.com/us-en/insights/retail/coronavirus-consumer-habits.
Fernando, J. (2021, Feb. 2). Corporate Social Responsibility (CSR). Investopedia. https://www.investopedia.com/terms/c/corp-social-responsibility.asp. Accessed March 5, 2021. 
Flannery M. E. (2020). Growing Awareness of "Period Poverty" in Schools. National Education Association. Retrieved March 24, 2021 from: https://www.nea.org/advocating-for-change/new-from-nea/growing-awareness-period-poverty-schools
Goldman Sachs. Millennials: Coming of Age. Retrieved from https://www.goldmansachs.com/insights/archive/millennials/ 
He, H. & Harris, L. (2020). The impact of Covid-19 pandemic on corporate social responsibility and marketing philosophy. Elsevier Public Health Emergency Collection, p. 176-182. Retrieved from: https://www.ncbi.nlm.nih.gov/pmc/articles/PMC7241379/ 
Khoros. (2020, Jul 1). The top millennial buying habits and insights for 2021. Retrieved from: https://khoros.com/blog/millennial-buying-habits. Accessed March 27, 2021. 
Markstein & Certus Insights (2019). Consumers Expect the Brands They Support to be Socially Responsible. Retrieved from https://markstein.co/wp-content/uploads/2019/10/CSR-Survey-deck-for-website-20190930.pdf 
Punzi, C. & Werner, M. (2020, July 25). Challenging the Menstruation Taboo One Sale at a Time: The Role of Social Entrepreneurs in the Period Revolution. The Palgrave Handbook of Critical Menstruation Studies, pp. 833-851. Retrieved from https://link.springer.com/chapter/10.1007/978-981-15-0614-7_60 
Wu, Long-Zeng et al. (2014, Feb.) CEO Ethical Leadership and Corporate Social Responsibility: A Moderated Mediation Model. Journal of Business Ethics, vol. 130, no. 4, doi: 10.1007/s10551-014-2108-9, Retrieved from: https://www.researchgate.net/publication/271922153_CEO_Ethical_Leadership_and_Corporate_Social_Responsibility_A_Moderated_Mediation_Model 
Popular reads on YPC
Talking about periods with male friends and co-workers doesn't have to feel like unleashing landmines.
Read more