Depending on who you ask, I got my first period anywhere between the ages of 10 and 14.
I vividly remember being huddled in the girls' toilets at middle school (against the radiator obvs) with some friends as we talked to another girl in-cubicle. The oldest of our troupe deflated that she wasn't the first to get her period, cajoled the girl into showing us her pad under the door to 'prove it'.
We all magically started our periods in the weeks that followed - I even took to carrying pads around with me, embarrassingly dropping them on the playground in front of the boys once. By the time I got my actual period, at 14, I remember being alarmed but *thankful* I'd finally 'matured' (lets all laugh for a moment).
I informed my mother, lying to her in the process that it was no biggie as I'd already started the month before (she sussed me out but was nonetheless heartbroken). And with that, I'd formally graduated into the 'menstruating young ladies club' embarking on a challenging albeit character-building relationship between me and my reproductive system currently entering its twelfth year!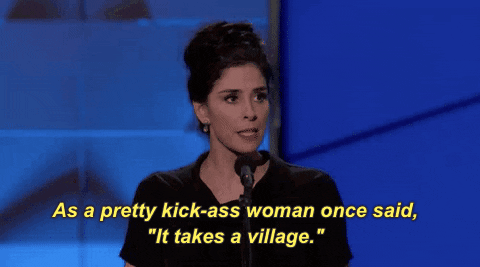 Popular reads on YPC
Talking about periods with male friends and co-workers doesn't have to feel like unleashing landmines.
Read more